If you've been following my progress thread, you've probably seen me mention my interest in the Persian meel/Indian club training that sometimes comes up as an early version of shovelglove. Well, after much thought and staring at bits in the hardware store I've finally gotten some cheap-o starter clubs put together!
Behold!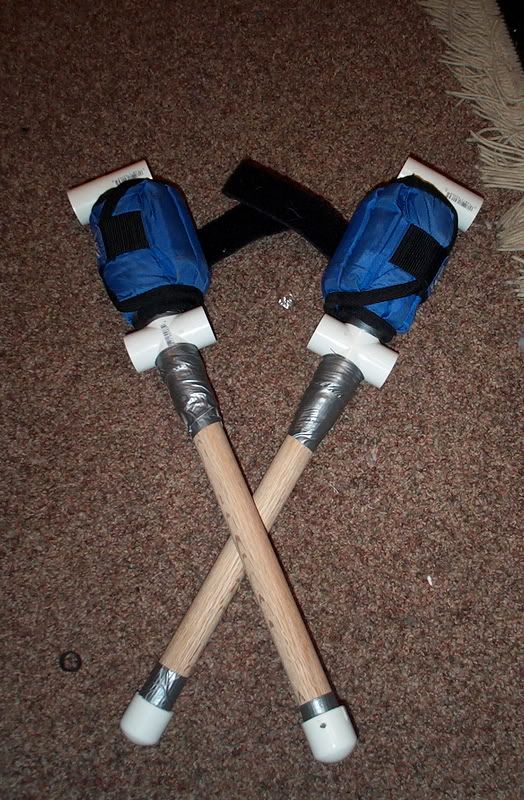 Okay, so they don't look like much, but they've got it where it counts. They're not going to rival
Purpleheart Armory
for quality, but your muscles won't know that, and these have the advantage of being adjustable, so I won't have to even think about investing in an upgrade for quite some time.
Here's a "naked" close-up of the head portion to give you a better idea of what's going on: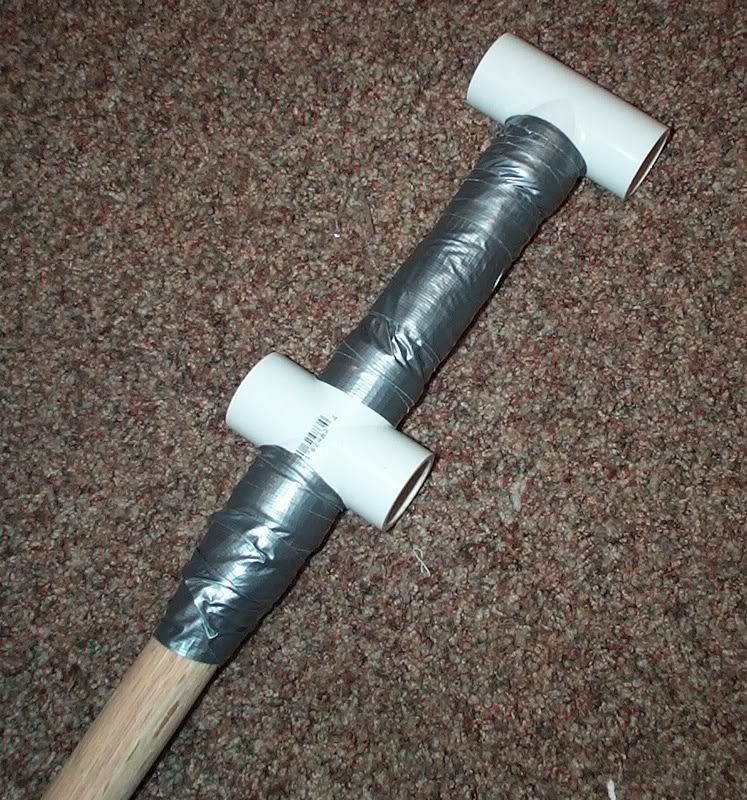 Here's the recipe:
1x 36" x 1" oak dowel rod (though 1-1/8" would be better if you can find one) - $4
2x 3/4" PVC Crosses - $1.50ea
2x 3/4" PVC Tees - $0.30ea
2x 3/4" PVC end caps - $0.80ea
2x 5# adjustable ankle weights - free (my parents bought them for my physical therapy after ACL surgery 12 years ago)
Whatever fastners you prefer (screws, nails, bolts)
Saw of some sort
Wrap one weight around the dowel so that it's flush with the end. Mark the length of the weight onto the dowel and cut that bit off. Stick a cross and a tee on each of the short section - MAKE SURE THE DOWEL GOES AS FAR INTO THE FITTING AS IT POSSIBLY CAN. You want a good secure fit and plenty of material for your fastners to dig into. If you're using a 1" dowel like I did, then you'll need to wrap some duct tape around the dowel to get a snug fit (be careful not to overwrap - a little bit goes a long way). I used some large finish nails to secure the fittings to the dowel, but screws would probably work better. You can try glue if you're able to get a decent fit without the tape, but I would be hesitant to trust most glues with the job.
Repeat on opposite end of the dowel. Find the center of this monstrosity that you've created and cut the beast in half (mine still wound up uneven, so I had to trim a little). Attach an end cap to each raw end just like the other fittings - this isn't really necessary, but I think it's a nice touch, and it smooths out any roughness from the raw edge of the wood. Plus it will make it a little harder for the club to slip out of your hand while you're swinging it.
To give a little extra stability to the fittings, and to prevent an stray bits of finish nail from poking up, wrap the fittings in a few layers of duct tape
Finally, adjust the weight in the ankle weights to whatever you're comfortable with and start swinging! I just got done with 14 minutes of rapier/dagger drills with 2# in each hand, and I'm feeling pretty friggin' good!
I'm still debating whether I should wrap the handles in tennis racket grips or if I should just leave them as bare wood. The grip material would make them a bit more comfortable, but then what's the fun of that?
[edited because I suck at proof-reading]