I've been putting off posting here so ... first of all I want to say the two reasons I finally decided to post:
1) I wanted to say thank you for creating this and posting it for free on a non-gimmicky website.
2) I know plenty of people are where I was and are looking for something they can do for life ... so I guess I want to encourage them too!
To start with I'm 22, female, 5'7".
July of last year (9 months before my wedding) I was at 212 lbs and miserable with my weight. I had actually been around 145-150 for several years and had maintained it. But, when some major life stressors/events happened my sophomore year of college I developed BED.
For those who don't know BED, binge eating disorder, is an eating disorder. It's more than just "bingeing every once in a while." BED is when you, on a regular (3+ times a week) binge on enormous amounts of food. While BED is a physical issue it's actually more of a mental issue. BED is literally an addiction, your brain goes through the same process as those addicted to cigarettes or alcohol ... unfortunately, though, my addiction was something I needed to survive. I couldn't just get rid of it.
Through some wonderful Christian counseling I began to deal with BED and with the issues behind it. I began to realize that our bodies are temples of God. That I am important. That self-discipline was a gift. And that healthfulness was important because this is the only body you get on this earth.
Even though I had pretty much stopped bingeing around May of 2009, I was steady holding my weight at 210+. When I hit my high weight (right after my fiancé's birthday) I knew I had to do something. A friend of mine challenged me to eat vegan for 30 days. I made it to 26 and lost 12 lbs ... but in the process my thinking about food began to change.
I really began to see that food is not the enemy. Food is healthful and sustaining. I ate vegetarian for a little while and then switched back into my regular diet (I never ate red meat and always leaned towards meatless meals anyways).
Then I found no-s. At first I thought, "This is too easy. If it was this easy everyone would be slim." I almost closed the webpage ... but something in my mind said, "No, don't. This makes sense." Deep down I knew that it was logical, regular patterns of eating. I just had NO idea how to eat "regularly"!
I began no-s and did it 100% I only took "S" days on special occasions (but in all fairness to that I am the oldest of 12 kids, have a large extended family, and very active in my church ... every weekend is a special occasion or holiday for someone!
)
I started by weighing myself weekly and kept that up for a couple of months. I have transitioned to weighing myself daily ... but I no longer obsess over it ... if it's up a little or down a little one day, I don't beat myself up.
I was so shocked because after eating normal (ie not diet food) for a week I had lost 2 lbs! I kept it up and over the course of 8 months lost an average of about 1 1/2 lbs a week!
I couldn't believe it! I had eaten like a sane person, actually enjoyed food, been able to go out to dinner with regular people and by the day of my wedding had lost nearly 60 lbs!
I walked down the aisle at 153 lbs ... My dress was taken in 3 sizes and was still a little lose on my wedding day. I felt beautiful, healthy, and whole ... but most important I had learned to take care of myself.
We have been married for 2 1/2 months now. Although I haven't been as strict as I was before the wedding I have managed to keep my weight between 150-157 lbs since we were married. I currently float around 155. I am getting ready to start being stricter again and really follow no-S to try and make it to the 135-140 lb range.
I'm sorry I wrote so much but I am so excited and so thankful for what no-S has allowed me to do! Food is no longer an enemy and healthfulness is not impossible to achieve! Thank you again for this wonderful, healthful, and common-sense method that I will keep for a lifetime!
My weight loss chart: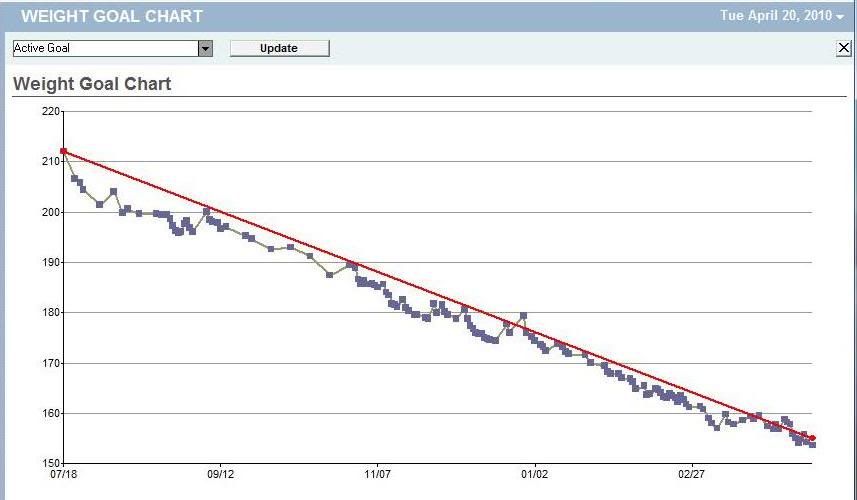 [/img]