Hello,
As I was going to sleep last night, I realized what was missing in my quest for physical fitness.
I can lose weight. I'm doing it right now:
Free Image Hosting by ImageBam.com
I'm not a big guy, but I'm not thin and am not muscular. I have been working on the 100 Push-Ups plan: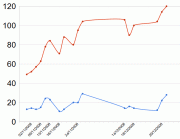 Free Image Hosting by ImageBam.com
(Top line shows session total, bottom line shows max done in last set of the session). I am fit enough to do over 100 push-ups in a session (spread over several sets). I can do around 30-40 push-ups in one shot.
Now, I know, from my own experience, I can lose weight. In the past, I've managed to get from 78kg (that's around 170 lbs) to 58 kg (that's 127 lbs). Since then I went up again (as you can see in the graph) but at 66.4, I am now headed in the right direction again.
I don't practice NoS -- but I keep a detailed and consistent food log, writing down everything I eat, and I analyze trends and make my own diet which works for me.
So, to reiterate: I know I can lose weight because I've done it before, and I'm doing it now.
However, what I
don't
know is if I can get muscular and well-defined.
I have never done that in my entire life (I'm 26). I grew up as a pudgy geek and have never really liked sports of exercise of any kind.
The point is that I don't really "know" I can do it. I know "intellectually" that I can do it, but I'm not really convinced.
So, what I realized I need is someone who actually went down this path.
And I want this one person to guide me, and root for me, and I would be accountable to them and would tell them how it's going, consult with them, etc. I could show them videos of my shugging technique and they'd say if I'm doing it right, etc.
Not a community (though you guys are really great), but one single person who started pudgy and ended up fit and muscular. Someone who's been there himself, and I can really relate to.
Obviously, I do not expect anyone to do this out of the goodness of their heart. But I might be able to barter some of my other skills (I'm a computer guy and a writer).
I'm willing to take before-and-after shots and write a testimonial, if it's for someone trying to build their cred as a coach.
Would anyone here be interested in something like that?